2020 has been the year that no one expected or wanted, but Cymbiotikahas some new products made with cannabidiol (CBD) and other beneficial ingredients that might just help you end the year with some extra comfort and joy.
There's no denying the increase in stress and anxiety levels that came with the COVID-19 pandemic, sporadic lockdowns, and ever-changing social distancing procedures.
And as happy as the holiday season is supposed to be, it can be a stressful time for many people as well, even during a normal year.
When a person's stress levels become elevated, the quality and duration of their sleep can suffer, facilitating more stress and anxiety.
Sleep is a vital function that allows the body to rest and the brain to recharge, but if a person does not get enough quality sleep, it can lead to a sleep-stress cycle.
According to the American Psychological Association, survey findings indicate that American adults sleep an average of 6.7 hours each night, which is less than the recommended seven to nine hours.
Irritability, difficulty concentrating, lack of motivation, and feelings of sluggishness are a few of the symptoms of poor quality sleep or lack of sleep.
With the hundreds of milligrams of delta-9 tetrahydrocannabinol (THC) that I ingest daily, my stress levels are not usually very high, and I don't normally have much difficulty falling asleep at night.
But like anyone else, there are nights when sleep doesn't come as easily, and I end up tossing and turning, sometimes for hours.
Thankfully, Cymbiotika has a natural solution for restless nights in the form of its sugar-free Rumi Herbal Sleep Tonic.
Rumi Herbal Sleep Tonic
The Rumi Herbal Sleep Tonic was one of three Cymbiotika products that I recently received for review.
The first night that I tried Rumi, I had no idea of how effective it would be as a sleep aid, but I was pleasantly surprised.
Per the directions, I dispensed eight pumps from the bottle into a spoon and ate it about 30 minutes before heading to bed.
Cymbiotika recommends four to eight pumps for adults and up to four pumps for children 12 years of age and older.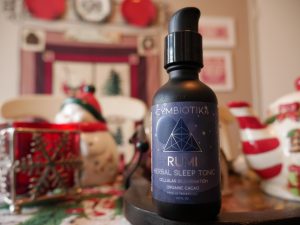 As I consumed the spoonful, the sweet tonic's rich organic cacao, cinnamon, and vanilla flavors delighted my taste buds while the organic glycerin produced a cozy warming sensation.
When I got into bed a short while later and drifted off to sleep, I slept more deeply and soundly than I had in some time—for the entire night.
I awoke the next morning feeling like I had caught up on sleep that I didn't realize I was missing.
I took the same amount of the Rumi tonic the next night and experienced similar results.
Chamomile is one of Rumi's essential sleep-promoting ingredients, alongside CBD, melatonin, and tryptophan.
Tryptophan is an essential amino acid that is notorious for producing good feelings and a bit of sleepiness after a Thanksgiving turkey dinner.
According to a 2016 study, tryptophan aids in the body's production of serotonin to help regulate mood and melatonin to help regulate sleep cycles.
Organic Longevity Mushrooms
As odd as it may sound, mushrooms go on ice cream now.
When I go to buy a sweet frozen treat at a Cold Stone Creamery, Dairy Queen, or Baskin Robbins, I will have a difficult time finding a shop that stocks mushrooms as an ice cream topping; but Cymbiotika makes a healthy case for adding them.
Cymbiotika's Organic Longevity Mushroom syrup makes a flavorful addition to a myriad of sweet treats while bringing numerous health benefits to the dessert table.
The syrup is a blend of King Trumpet, Turkey Tail, Antrodia, Maitake, and Reishi mushrooms and features a rich organic chocolate fudge flavor that tastes great on ice cream and yogurt as well as in hot and cold beverages.
In addition to being a good source of soluble and insoluble fiber, mushrooms are high in antioxidants, lower systemic inflammation, and support the central nervous and immune systems.
Cymbiotika's syrup also contains Epigallocatechin Gallate (ECGC) green tea extract, which has shown potential as an anticancer agent.
I have tried the syrup in hot chocolate, peach yogurt, and strawberry applesauce, but my favorite food to put it on so far is a bowl of boysenberry cheesecake ice cream from Stater Bros—that frozen fruity fudge-flavored fungus combo is a winner.
The syrup is free of gluten, soy, and sugar, is GMP and GLP certified, and adheres to the ketogenic (keto) diet.
The delicious mushroom syrup also contains B vitamins, triterpenes, L-Ergthioneine, prebiotics, vitamin D, and other nutrients.
To experience the cumulative health benefits of the mushroom syrup, Cymbiotika recommends taking single-tablespoon (adults and children) doses daily.
Heal-All Anti-Inflammatory
Aches and pains are an inevitable part of life, but living with them doesn't necessarily have to be, thanks to the wealth of cannabinoid-infused wellness products that currently exist.
I've started using Cymbiotika's Heal-All anti-inflammatory CBD roll-on to treat some persistent muscle and joint pain in my left elbow and forearm and have had some positive results.

Within the first 24 hours of my first use of the product, I had already begun to experience pain relief and healing in the affected area.
Though the pain has not subsided fully since my first application, it has reduced and continues to improve with daily applications of Heal-All.
Heal-All is easy to apply and can be used as often as needed.
When applying a dose of Heal-All, roll it directly onto the skin and massage the formula into the area to fully absorb it and begin experiencing the benefits.
Heal-All is 100 percent bioavailable, safe for children, and is useful for treating bruises, mild burns, muscle soreness, and muscle cramps as well as cosmetic issues such as acne scars, sunspots, redness, and inflamed skin.
Each bottle of Heal-All contains 500mg of CBD in a blend of organic oils, terpenes, and extracts to soothe and heal pain, injury, and inflammation.
Cymbiotika uses only quality organic ingredients in the formulation of their products, which contain no GMOs, chemicals, animal products, soy, wheat, gluten, corn, nuts, dairy, lactose, eggs, yeast, sugar, solvents, fillers, binders, silicon, or BPA (Bisphenol A).
As 2020 begins winding down with the commencement of the holiday season, Cymbiotika's tonics and other formulas are just a few healthy and delicious ways to help alleviate some of the year's stress, anxiety, and discomfort.
Cymbiotika's Rumi sleep tonic, organic longevity mushroom syrup, and Heal-All anti-inflammatory make great holiday gifts for others or for treating yourself after a long and bizarre year.
Source: CandidChronicle