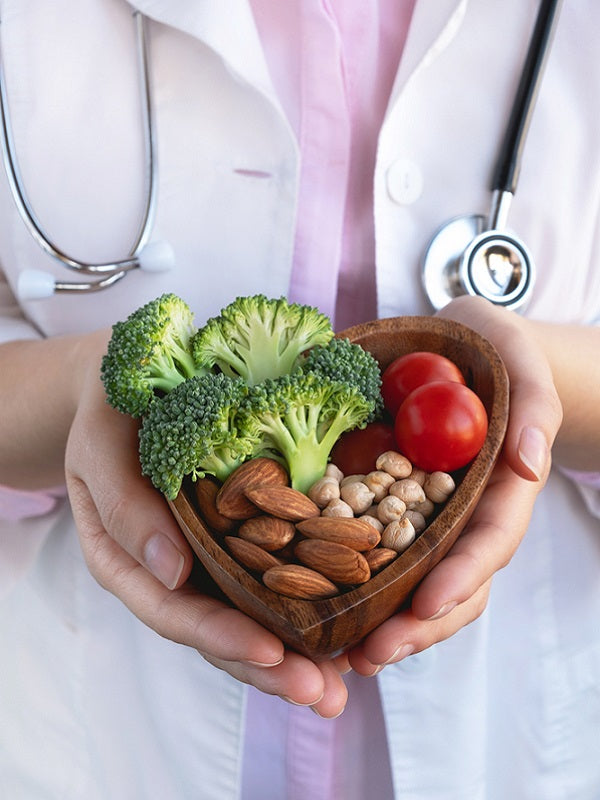 Your heart is the engine that keeps your body running. It's a complex machine that's fine-tuned by the fuel you provide it with. To keep it running in tip-top shape, the fuel you give it needs to be the right fuel.
This means having a steady, balanced, and heart-healthy diet. But with so many foods good for heart health, how do you know where to start? You may have heard of new superfoods and vitamins, wondering, "What is red yeast rice?"
Let this guide serve as your personal shopping assistant. Below, we'll cover 10 heart-healthy foods to add to your grocery list.
1. Tuna, Salmon, and Fish Oil
Fatty fish, like tuna and salmon, are known to have a wide range of benefits when it comes to heart health. Broiling a piece of salmon for dinner or whipping up a mayonnaise-free tuna salad for lunch could help reduce the risk of heart disease and contribute to lower cholesterol levels.
That's because these fish boast high levels of omega 3 fatty acids, which have been extensively researched for their benefits in minimizing the risk of cardiovascular disease and preventing heart disease.1
If you're not keen on pescatarian diets, there are still plenty of ways to tap into the nutrients afforded by fish. Plant-based omega 3 supplements, for example, can provide the same benefits without the need to consume a sizzling filet of salmon.
No matter your preferred method of consumption, fatty fish and omega supplements may help with:1
Cholesterol level
Systolic blood pressure
Depression
Blood triglycerides
Arterial function
Minimizing heart disease risk
2. Tomatoes
Tomatoes are jam-packed with antioxidants, and their versatility makes them a breeze to mix into just about any meal. Add fresh tomatoes to a salad, on a sandwich, or cook them into a delectable pasta sauce.
However you choose to prepare them, they're a tremendous option for heart health since they include some heart-disease-fighting agents, such as:
Lycopene
Beta- and alpha-carotene
Potassium
Fiber
Folate
Lycopene, in particular, includes antioxidants that can help with everything from blood pressure to preventing oxidative inflammation.2
3. Berries
Who doesn't love a delicious, fresh-from-the-vine berry? Not only do they pack a flavorful punch, but they're just as versatile as their vine-ripened relatives, tomatoes. Toss them atop a tasty smoothie bowl, eat them in lieu of a pastry for dessert, or sprinkle them on salads for an added splash of color and tang.
Beyond their gustatory benefits, berries have a ton of nutrients and antioxidants that can prevent heart disease. They're low in calories, and some berries, such as blueberries, have been shown to improve blood vessel function, ultimately helping to keep the threat of high blood pressure at bay.2
If your goal is to reduce some of the risks associated with heart disease, try stocking your fridge with:
Blueberries
Raspberries
Blackberries
Strawberries
4. Leafy Greens
Ever since you were young, you've likely been hearing about the importance of "eating your greens." As it turns out, it's just as essential to keep this mantra in mind as we age. That's because leafy greens are loaded with a ton of minerals and vitamins that are essential to sustaining heart health over time.
Plus, they're equipped with nutrients that help oxygen-rich blood reach your heart, like nitrates. They often contain generous helpings of antioxidants and can be a nutritious source of vitamin K and vitamin B.
These vitamins may help prevent blood clotting and protect arteries, which are critical in reducing the risk of heart disease.3
Put simply, feel free to indulge in whatever leafy greens you can get your hands on. Head to your local grocery store or farmer's market and load up your cart with items like:
Lettuce
Spinach
Mustard greens
Arugula
Kale
Bok choy
Collard greens
Broccoli
Leafy greens don't have to be bland, either. You can sauté or roast them and even add them to other heart-healthy foods like salmon or eggs.
5. Beans
Another heart-healthy food to add to your pantry? Beans. They're an excellent option if you're on the hunt for extra minerals and fiber, and they also contain some of the same nutrients that you would find in foods such as meat or fish.
Black beans, especially, include a wide array of heart-healthy ingredients, like:
Antioxidants
Magnesium
Folate
Fiber
Combined, these ingredients can target LDL cholesterol, reduce blood pressure, and minimize the potential risk of developing heart disease.2 Try incorporating beans into your diet by using them as the main ingredient in a spicy black bean salad or mixing pinto beans in a vegetable soup. However you prefer to eat them, you can feel good knowing that there's a helping of heart-healthy goodness in every bite.
6. Avocados
You already know that reducing high cholesterol levels is strongly linked to the prevention of heart disease. But did you know that avocados are a powerful, cholesterol-fighting food?
Although they are fatty, the monounsaturated fat found in avocados is an essential dietary fat that is good for you in moderation.
They also include a wide range of different vitamins and minerals. 4These include:
Folate
Vitamin B6
Potassium
Vitamin C
Vitamin E
In each perfectly ripe avocado you scoop up at the grocery store, you'll find an essential fatty acid called oleic acid. It's a heart-healthy fat that can contribute to a reduction in cardiovascular inflammation.4 Avocado toast? Yes, please!
7. Walnuts and Almonds
Small but mighty, walnuts and almonds can have a significantly positive effect on your cholesterol levels. Eating a few a day can lead to decreased levels of LDL cholesterol and help protect your arteries from inflammation.
Both walnuts and almonds are packed with monounsaturated fats as well as fiber—a powerful force for fending off heart disease. Plus, research has shown that if you incorporate nuts into your diet, you can potentially reduce the risk of a heart attack.5
Here are a few of the specific nutrients that make nuts an ideal food for boosting heart health:
Fiber
Vitamin E
Plant sterols
Omega 3 fatty acids
Unsaturated fats
8. Asparagus
Asparagus is another food that can play a positive role in your heart health. It's relatively low in calories, and boasts heaping amounts of antioxidants, minerals, and vitamins.6
Adding asparagus into your diet can provide a good source of several nutrients, such as:
Vitamin C, E, K, and A
Zinc
Fiber
Magnesium
Calcium
Vitamin B6
Niacin
Iron
Thiamin
Riboflavin
Vitamin B6 in asparagus contributes to decreased risk of heart disease by regulating the amino acids in your body. Plus, the high levels of vitamin K may reduce blood clotting, leading to better heart health.
Broil a generous handful of asparagus alongside a piece of lemony salmon, or mix it into a salad with olive oil and almonds. Either way, you'll be doing your heart a tasty favor.
9. Red Wine
Whether you prefer pinot noir, cabernet, or merlot, indulging in an occasional glass or two of wine can provide some benefits to your heart. Red wine contains powerful antioxidants such as resveratrol, that work to protect your arterial walls and maintain optimal cholesterol levels.7
Furthermore, when consumed in moderation, wine has been shown to have positive effects on:
Cardiovascular disease
Hypertension
Metabolic syndrome
Neurological disorders
Atherosclerosis
That said, it's also important to recognize that the overconsumption of any alcohol—not just red wine—is detrimental to your health.7
10. Cantaloupe
Fruit salad always seems to be a crowd-pleasing dish, and it wouldn't be complete without cantaloupe. Cantaloupe boasts juicy, candy-like sweetness and several excellent heart-healthy benefits to boot.8 Within each bite, you'll absorb:
Potassium
Folate
Fiber
Vitamin C
Vitamin B complex
Carotenoids
The potassium found in cantaloupe, in particular, is the all-star nutrient that can help put you at ease if high blood pressure is a top concern. Beyond that, you'll find other nutrients, like fiber, that might make maintaining healthy cholesterol levels a simpler, tastier task.
Enhance Your Heart Health with Cymbiotika
Your heart is one of the key pieces to maintaining a healthy, sustainable lifestyle—and so is what's on your dinner plate. Diet plays a major role in reducing and preventing the risks that are often associated with cardiovascular problems. But healthy eating is not enough - you should also do some heart health exercises.
The journey to improved heart health can be long, but now that you're equipped with the best food for heart health, you're off to an excellent start. That said, it can sometimes be a challenge for your body to get what it needs from diet alone.
If you're in need of a helping hand, look to heart support supplements.
Packed with CoQ10 plus red yeast rice and other plant-based ingredients, our Heart Health pouches are a simple way to stabilize blood sugar levels, reduce oxidative stress, and more. CoQ10 and red yeast rice benefits may seem too good to be true, but it makes sense to us. Taking care of your body starts from within, and we should nurture ourselves with the best, natural ingredients.
With Cymbiotika, your heart health is in good hands.
Sources: