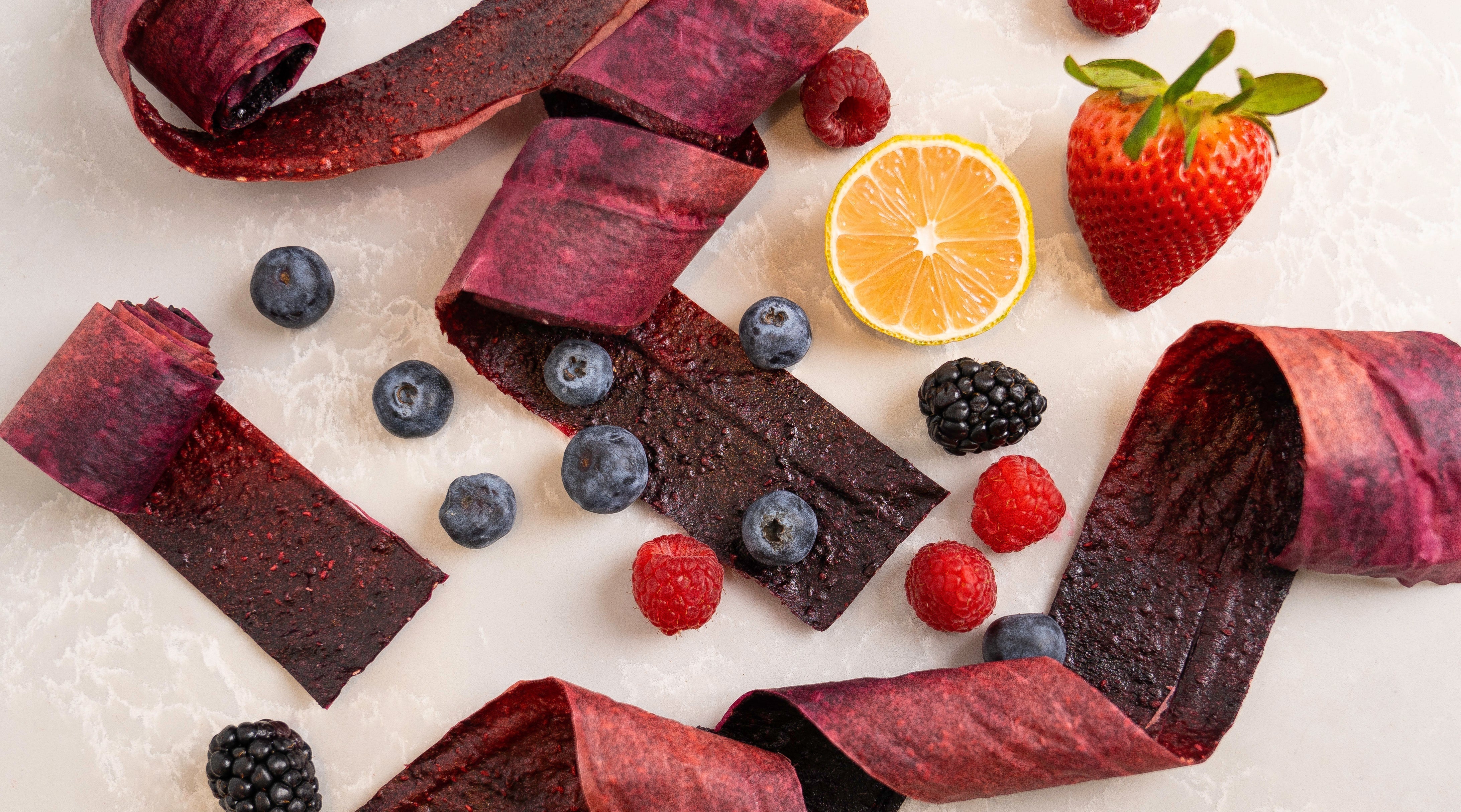 RECIPES
Healthy B12 Berry Fruit Roll-Ups
4 hr 30 min
Essential Takeaways
We share a nostalgic fruit roll-up snack you can easily make at home!
As a kid, I dreamed of having ice cream and cookies for dinner every night – and now I've discovered a way to make my dreams come true. Well, with fruit roll-ups, at least.
These healthy, homemade leather fruit roll-ups are packed with essential vitamins and minerals and are great at satisfying sugar cravings. Cymbiotika's own Lauryn Barris created this nostalgic snack using the infamous Liposomal Vitamin B12+B6 supplement, and you can find her on Instagram @ninthhousehealing.
Ingredients for Berry Fruit Roll-Ups
Here's what you'll need for these healthy B12 Berry Fruit Roll-Ups
1 ½ cups of raspberries

1 ½ cups of strawberries (quartered)

1 tbsp of lemon juice

2 servings (24 pumps) of Cymbiotika's Vitamin B12
1 ½ cups of blackberries

1 ½ cups of blueberries

Juice from half of a small lemon (~3 tbsp of lemon juice)

2 servings (24 pumps) of Cymbiotika's Vitamin B12
Tools:
Baking tray

Parchment paper

Blender or food processor

Oven
Instructions:
Preheat oven to 170 degrees.
Line a baking tray with parchment paper.
Add 1 ½ cups of raspberries, 1 ½ cups of quartered strawberries, 1 tbsp of lemon juice, and 24 pumps of Vitamin B12 in a blender and blend until smooth.
Pour the mixture into a separate container and set aside.
Add 1 ½ cups of blackberries, 1 ½ cups of blueberries, juice from half of a small lemon, and 24 pumps of Vitamin B12 in a blender and blend until smooth.
Pour the strawberry + raspberry puree onto a baking tray lined with parchment paper. You can pour this into dots or stripes, but leave space in between to fill with the other mixture.
Fill the remaining space with blackberry + blueberry puree. Using a spatula or spoon, swirl the two purees together. Make sure to spread the puree out as evenly as possible.
Bake in the oven at 170 degrees for about 3 hours, turning the pan halfway through until the center is no longer sticky.
If it is still sticky, put the fruit leather back into the oven for another 30-60 minutes. Depending on your oven, the cooking time may vary.
Remove the tray from the oven and allow it to cool. Once cooled, cut each strip into a roll-up and enjoy!
How do you store homemade fruit roll-ups?
These homemade fruit roll-ups can last up to 2 weeks if stored in an airtight container and kept in the fridge.
Why you'll love these homemade fruit roll-ups:
No artificial ingredients.

There are no preservatives, artificial flavors, food coloring, or high fructose corn syrup in these fruit roll-ups.

Made with real fruit.

These fruit roll-ups are all-natural and made with fruit and Vitamin B12, ensuring your body gets all the vitamins, antioxidants, and minerals you need!

Easy to prepare.

It may take some time for the fruit roll-ups to cook in the oven, but this recipe is easy to prepare!

Free from allergens.

These fruit roll-ups are free from gluten, dairy, nuts, and soy.
Health benefits:
This homemade fruit roll-up is packed with antioxidants and essential vitamins:
Berries are rich in antioxidants and may act as antimicrobials, which may help control unwanted pathogens in the body¹.

Berries provide great benefits in preventing or mitigating metabolic disorders²

Cymbiotika's Vitamin B12 formula has three of the most potent and bioavailable forms of Vitamin B12: Methylcobalamin, Adenosylcobalamin, and Hydroxycobalamin.

Vitamin B12 is a nutrient that helps the body's blood and nerve cells and supports the body's ability to make DNA.

Vitamin B12 supports energy production and nervous system function so you can take on your day with more energy, clarity, and improved mood.
Summary
Our Berry B12 Fruit Roll-Up recipe is a far healthier alternative to traditional fruit roll-ups you find at the store. I hope you love this recipe just as much as I do!
Cheers!
Love,
Mary
Mary Adams
Author
As a lifestyle writer and health enthusiast, I'm excited to bring my passion for storytelling to Cymbiotika. Two things you should know about me: I love interior decorating, and I'm obsessed with supplements. My kitchen counter literally overflows with supplements and powders. This passion led me to buy my first Cymbiotika product. I tried the Liposomal Magnesium L-Threonate and was so impressed by how it gave me more energy and cleared up my brain fog that I wanted to share this brand with as many people as possible. Shortly after, I'm here doing just that. I'm excited to be on this journey of better health with Cymbiotika, and I'm excited to share it with you here on the blog.
Reviewed by: Dr. Pejman Taghavi
Medical Director, Hollywood Healthcare
Clinical Instructor, Ronald Reagan UCLA Medical Center
Dr. Pejman Taghavi is a specialist in the field of Diagnostic and Interventional Abdominal and Musculoskeletal Radiology. As medical director of Hollywood Healthcare and faculty at UCLA Medical Center, Dr. Taghavi offers extensive expertise in the field of radiology, with publications in the Society of Skeletal Radiology and Chicago Radiological Society, among others. Dr. Taghavi is passionate about the healing of muscles and joints without relying on oral pain medications. Dr. Taghavi has experience working with high-level athletes from the LA Lakers, LA Dodgers, and UCLA Bruins.
Sources:
1. NCBI. Berries: Improving Human Health.
https://pubmed.ncbi.nlm.nih.gov/20645129/
2. NCBI. Recent Research on the Health Benefits of Blueberries. https://www.ncbi.nlm.nih.gov/pmc/articles/PMC7442370/