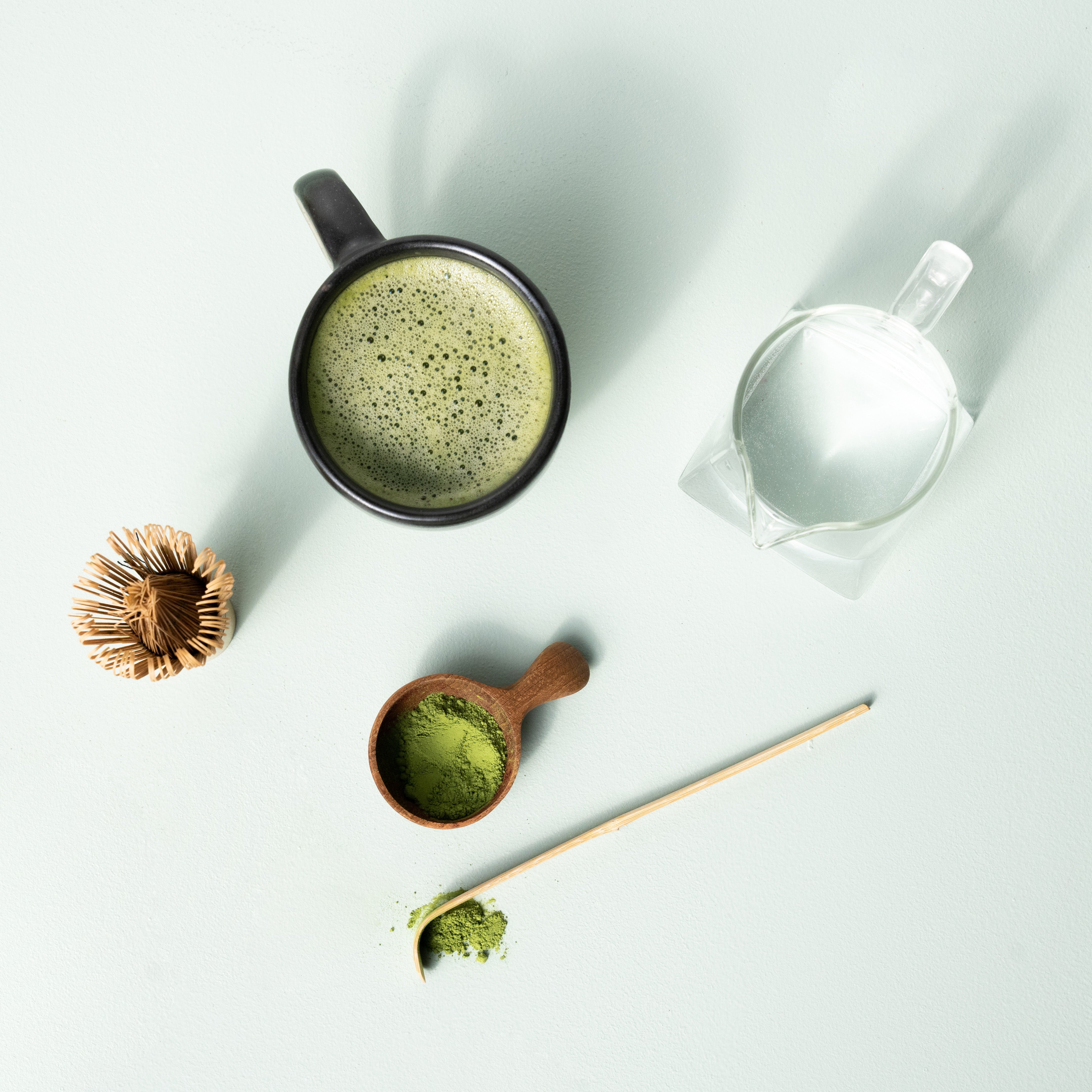 RECIPE
How to Make Traditional Matcha Green Tea, Step-by-Step
8 min read
Essential Takeaways
You can enjoy your own morning ritual with matcha right at home!
There's nothing quite like a steaming cup of matcha in the morning. High in antioxidants, Matcha offers many health benefits and calming effects. Rather than make an extra stop for an overly sweet (and overly priced) cup of matcha, you can enjoy an earthy, delicious cup of Organic Matcha right at home. Here's how to do it:
Matcha accessories:
A ceremonial tea bowl (

called a chawan

)

Bamboo tea whisk (

chasen

)

Tea scoop (

chashaku

)

Strainer
Ingredients:
Organic Matcha

powder

Water

Milk or milk alternative

Honey or sweetener of choice
Instructions:
Please note: this recipe is not to teach the proper method for the Japanese tea ceremony but to make delicious matcha and enjoy it at home.
Photo by Cymbiotika
Prepare your station.
Photo by Cymbiotika
Using the measuring ladle, scoop ½ tsp (1g) of matcha powder into the strainer.
Sift your matcha powder into your tea bowl, swirling the powder around with the ladle, so your tea will be smooth.
Photo by Cymbiotika
After you sift your powder, it should look like this! (Stunning, right?!)
Photo by Cymbiotika
Pour 1-2 ounces of hot water into the bowl with the matcha powder.
Relax your wrist, and use a gentle circular motion for thin, smooth tea. Use a quick "M" or "W"-shaped motion for foamy tea. (Fun fact: smooth and foamy tea have slightly different scents and flavors. Whisk for about 15 seconds until the tea is bright green.
Photo by Cymbiotika
Carefully pour your matcha into a teacup.
Enjoy!
Pro-tip: For an extra hint of sweetness, add some magnesium! Cymbiotika's Magnesium L-Threonate boosts brain power and increases concentration and focus. Plus, it has a delicious vanilla chai flavor that will elevate your cup of matcha!
Did you make this recipe?
If you made this recipe, take a photo and tag @cymbiotika on Instagram! We'd love to see your creations.
Love,
Kayla
Kayla Porter
Author
I'm a health enthusiast and passionate writer eager to bring my passion for fitness and well-being to Cymbiotika. I strongly believe in moving your body and exercising regularly to achieve optimal health. Fun fact about me: I love pilates! One of my favorite supplements to take after a hard workout is Cymbiotika's Longevity Mushrooms. Not only does it help me recover faster, but it has multiple benefits that support my immune system and overall health. I'm excited to continue my health journey with Cymbiotika and share tips and tricks to work towards living your best life!
Reviewed by: Dr. Pejman Taghavi
Medical Director, Hollywood Healthcare
Clinical Instructor, Ronald Reagan UCLA Medical Center
Dr. Pejman Taghavi is a specialist in the field of Diagnostic and Interventional Abdominal and Musculoskeletal Radiology. As medical director of Hollywood Healthcare and faculty at UCLA Medical Center, Dr. Taghavi offers extensive expertise in the field of radiology, with publications in the Society of Skeletal Radiology and Chicago Radiological Society, among others. Dr. Taghavi is passionate about the healing of muscles and joints without relying on oral pain medications. Dr. Taghavi has experience working with high-level athletes from the LA Lakers, LA Dodgers, and UCLA Bruins.
Sources: