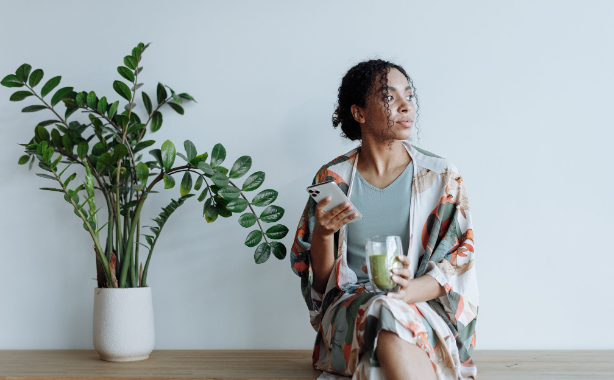 EDUCATION
Matcha 101: What It Is, Health Benefits, and More
6 min read
Essential Takeaways

Used ceremonially in Japan, matcha is the standard of green tea leaves.

Matcha is packed with antioxidants, is energizing, and has a fraction of the caffeine of coffee.

Read on to learn my secret tip for improving cognitive function!
I enjoy matcha every morning.
Up until recently, I didn't have a set morning routine. I would wake up late, spring out of bed, make instant coffee in my to-go cup, and rush out the door. My mornings were hectic, I didn't feel rested, and I was always anxious and stressed.
For the sake of my health
(and sanity),
I boldly switched to matcha instead of coffee to take some time to enjoy my mornings.
Drinking matcha every morning allowed me to slow down, take my time, and breathe. Most importantly, it's packed full of antioxidants, is energizing and has a fraction of the caffeine of coffee.
What is matcha?
Matcha is made from finely ground dried green tea leaves. It has a vibrant green color that results from the leaves' high chlorophyll levels. It has been ceremonially used in Japan for traditional tea ceremonies for centuries, but it recently became popular in the US because of its health benefits.
What does matcha taste like?
Matcha has a smooth, creamy texture with floral notes and a trace of light bitterness.

Is matcha good for you?
Absolutely! Here are some benefits of matcha:

Matcha benefits
Improves focus and concentration
Combining L-theanine and caffeine helps the caffeine metabolize slower in the body and soothes the central nervous system. Matcha allows you to enjoy sustained energy throughout the day with more concentration and focus without the crash.

Enhances metabolism
Matcha is abundant in the catechin, ECGC, which has thermogenic effects on the body, boosting metabolism and supporting weight loss. ECGC is also known to reduce inflammation and protect against cell damage.

Combats premature aging
Matcha is rich in antioxidants that help protect the body from free radical damage. The high level of antioxidants helps increase anti-aging molecules and promote cellular regeneration.
Pro-tip:
Want a secret pro-tip for improving cognitive function? Combine Cymbiotika's Organic Matcha with their Magnesium L-Threonate. It's a perfect combination for cognitive function and overall brain health!

Does matcha have caffeine?
According to research¹, matcha contains about 18 to 50 mg of caffeine per gram, depending on the quality. How the matcha is grown, harvested, and prepared can impact caffeine levels.
Culinary vs. Ceremonial Grade Matcha
Not all matcha is created equal! Generally, the main difference between culinary and ceremonial matcha is that ceremonial grade matcha consists of the highest quality tea leaves picked from the first harvest of each year. These tea leaves are found at the very top of the tea plant, are the youngest, and are incredibly delicate.

Ceremonial Grade Matcha
Used ceremonially in Japan, matcha green tea is the most nutritious matcha available and provides powerful health benefits like sustained energy and focus. Because ceremonial grade matcha is so pure, it's only mixed with water and is never used in desserts or foods.
Culinary Matcha
Culinary matcha is usually used in all things sweet. Think cakes, cookies, lattes, and other foods. Unlike ceremonial grade matcha, older plants are harvested. Also, there's no standard for how culinary matcha is produced, so they range from very good to poor.

Matcha vs. Coffee
Because of the chemical compounds in matcha, the caffeine takes longer to break down, making it much more stable and enjoyable than coffee.
Coffee gives you a harsh energy crash, whereas matcha is a slow and steady release.

What brand of matcha should I buy?
If you want an authentic matcha experience, get a ceremonial grade. I love Cymbiotika's Organic Matcha because of the quality and experience it provides.

Where is Cymbiotika's Organic Matcha sourced?
Cymbiotika's matcha is sourced from small family farms in Uji and Kagoshima, Japan. It's a single harvest, and each year, the first harvest of tea leaves is processed in small batches. Their matcha is 100% stone ground and carefully crafted, ensuring that the result is a smooth tea with a rich and sophisticated flavor.
How do you make Organic Matcha?
Want an easy tutorial on how to make Organic Matcha? You can learn here!
Summary
If you've been thinking about switching from coffee to matcha, this is your sign to do it! Matcha is energizing, delicious, and packed with important nutrients. I hope you try out matcha–you'll love incorporating it into your morning ritual!
Love,
Kayla
Allison Porter
Author

I'm a health enthusiast and passionate writer eager to bring my passion for fitness and well-being to Cymbiotika. I strongly believe in moving your body and exercising regularly to achieve optimal health. Fun fact about me: I love pilates! One of my favorite supplements to take after a hard workout is Cymbiotika's Longevity Mushrooms. Not only does it help me recover faster, but it has multiple benefits that support my immune system and overall health. I'm excited to continue my health journey with Cymbiotika and share tips and tricks to work towards living your best life!

Reviewed by: Dr. Pejman Taghavi
Medical Director, Hollywood Healthcare
Clinical Instructor, Ronald Reagan UCLA Medical Center

Dr. Pejman Taghavi is a specialist in the field of Diagnostic and Interventional Abdominal and Musculoskeletal Radiology. As medical director of Hollywood Healthcare and faculty at UCLA Medical Center, Dr. Taghavi offers extensive expertise in the field of radiology, with publications in the Society of Skeletal Radiology and Chicago Radiological Society, among others. Dr. Taghavi is passionate about the healing of muscles and joints without relying on oral pain medications. Dr. Taghavi has experience working with high-level athletes from the LA Lakers, LA Dodgers, and UCLA Bruins.

Sources:
1. NCBI. https://www.ncbi.nlm.nih.gov/pmc/articles/PMC7796401/