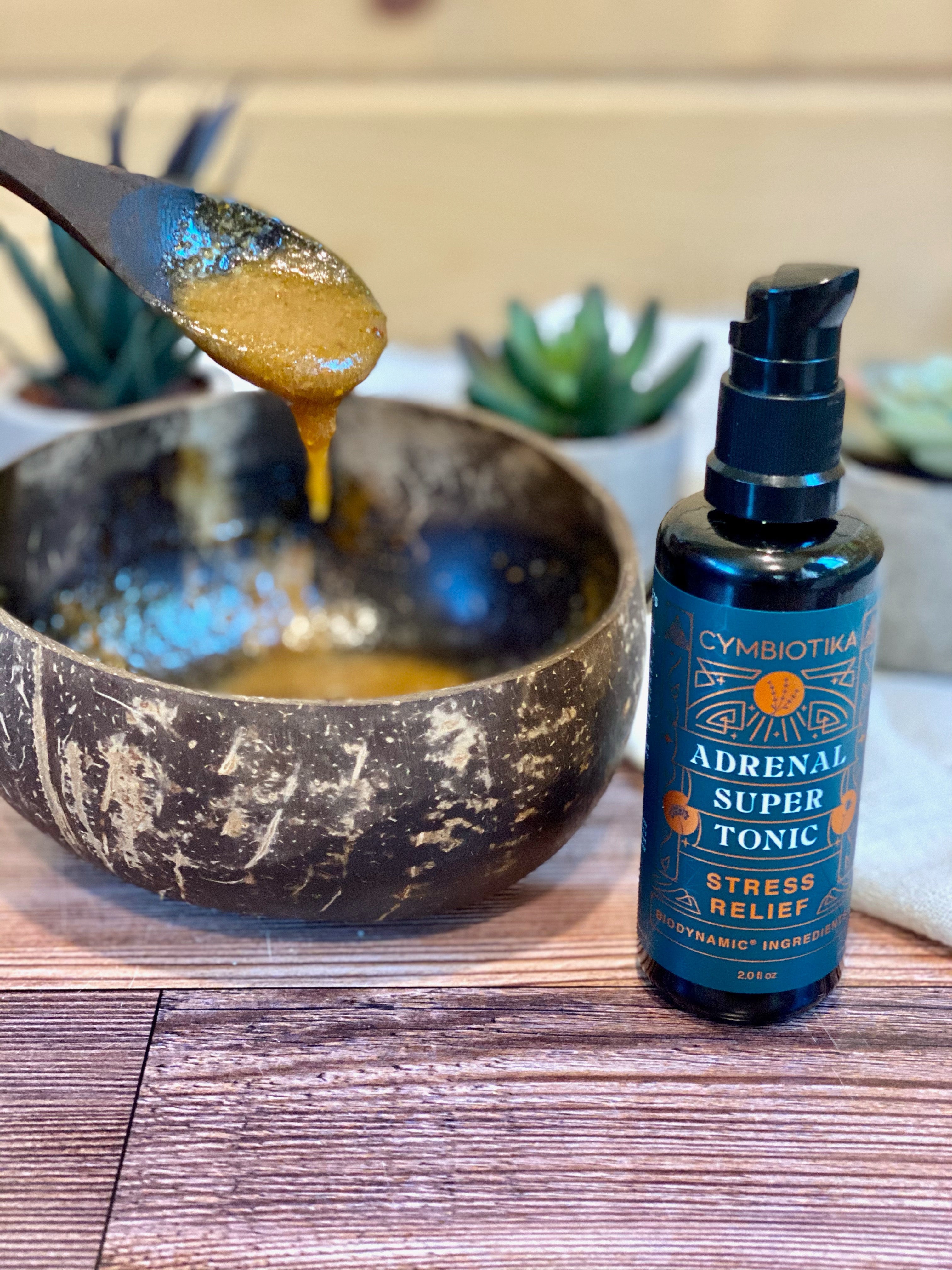 Panacea (n): A remedy for all diseases, evils, or difficulties; a cure-all. Panacea was the Greek goddess of healing, and this potent recipe certainly lives up to its name!
This is an Ayurvedic inspired recipe that contains raw manuka honey and organic grass fed ghee— two staple ingredients that have been used for thousands of years to treat various ailments and dis-eases. As always, ethical sourcing is our top priority and we love supporting small, local farms when choosing to incorporate animal products into our diets/recipes. With this being said, use your own discernment on what calls to your particular body and lifestyle!
Each ingredient in this recipe has been uniquely chosen to encourage overall wellness in the body, and here's what they bring to the table:
⟁ Raw Manuka Honey: Known best for its antibacterial, antiviral, anti-inflammatory and antioxidant properties. May improve oral health, reduce pain from a sore throat, help prevent gastric ulcers commonly caused by H. Pylori, improve digestive health and relieve symptoms of IBS, and relieve upper respiratory infections.
⟁ Organic 100% Grass-Fed Ghee: Contains many essential vitamins and nutrients that have been known to boost energy levels, reduce allergies, improve heart health (thank you omega-3's!), reduce inflammation (butyric acid), support the eyes (vitamin A), and boost immunity.
⟁ Bee pollen: Contains over 250 biologically active ingredients such as proteins, carbs, lipids, fatty acids, vitamins, minerals, enzymes and antioxidants. May help protect from free radicals and chronic diseases, lower risk of heart disease, boost liver function, reduce inflammation, boost immunity, and support metabolism.
⟁ Maca Root: May increase stamina, support women's hormones/libido/fertility, increase energy levels, boost memory and mood, and improve sperm production, mobility, and volume in men.
⟁ Astragalus Root: May enhance immune function, reduce fatigue, enhance metabolism, improve heart health, manage blood sugar levels, and increase energy.
⟁ Cymbiotika's Adrenal Super Tonic: A blend of biodynamic, adaptogenic herbs including guava, moringa, ashwagandha, tulsi, aloe vera, turmeric, and more— which synergistically lower cortisol levels, balance mood, support metabolism, and improve gut health.
When all of these herbs are mixed with the ghee and honey, they have a greater absorption rate and make it directly into the body's cells in order to start healing immediately! This delicious creation may be enjoyed on its own, added onto toast, used in baked goods, or in any other way that calls to you!
Recipe
Time: 5 minutes
Serving Size: 1/2 to 1 full tbsp
Yields: 5-10 servings
Ingredients:
4 tbsp raw manuka honey

2 tbsp organic 100% grass fed ghee (we used a regenerative goat ghee, but any type works)

1-2 tbsp bee pollen

½ tsp maca powder

½ tsp astragalus powder

24 pumps of Adrenal Super Tonic

Pinch of salt
Directions:
Crush bee pollen until it becomes powdery

Add all ingredients to a bowl and mix thoroughly.

Store in an airtight container and keep in fridge for maximum freshness!
*Note: you can tailor this recipe to your own taste buds by adding more or less of any ingredient. This is just what we followed, but there's no right or wrong here!
We hope you enjoy this healing recipe as much as we do! Let us know your thoughts on social media and tag us in your posts when you decide to make it :)
With love and gratitude,
The Cymbiotika Team