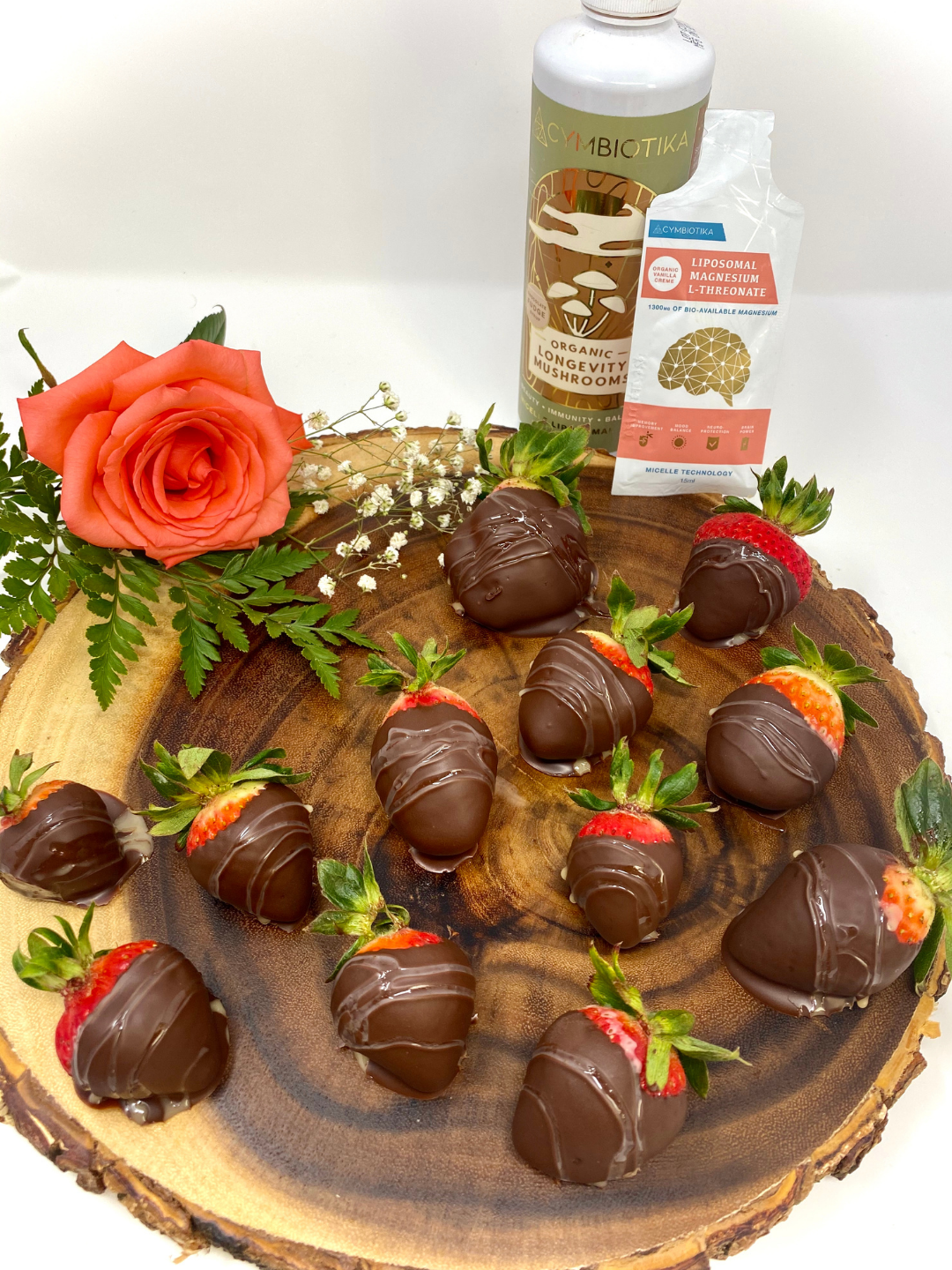 In celebration of Valentine's Day, we have made some mouth-watering, brain boosting chocolate covered strawberries that are enhanced with our Longevity Mushrooms and Magnesium L-Threonate.
For this recipe, we used dairy & sugar free chocolate chips, and then added our mushrooms and magnesium not only for their delicious flavors, but also for their supreme nutritional profiles.
Our Longevity Mushroom formula is a blend of 5 medicinal mushrooms, including king trumpet, turkey tail, antrodia, maitake and reishi-- which all have unique properties that help support overall health and vitality. This formula also has an organic green tea extract in it (without caffeine) that contains EGCG, which is an antioxidant that helps prevent cell damage.
Once the strawberries were coated with chocolate, we drizzled our favorite vanilla cream Magnesium L-Threonate on top of them for an "icing" effect. Our Magnesium L-Threonate has been shown to increase brain levels of magnesium more than any other form of magnesium, and is known for its beneficial effects on enhancing brain function, supporting the nervous system, boosting cognitive health, relieving muscle cramps, and aiding in better sleep cycles.
We hope you get to make and enjoy this recipe with your friends and family! Let us know what you think about these on social media and tag us in your photos so we can see your beautiful creations :)
Recipe
Ingredients
⟁ Strawberries
⟁ 1 cup dairy/sugar free chocolate chips
⟁ 1-2 tbsp coconut oil (depends on how well your chocolate melts! Add as you go)
⟁ 1-3 tbsp of Cymbiotika's Longevity Mushrooms
⟁ 1-2 packets of Cymbiotika's Magnesium L-Threonate
Directions
⟁ Bring small pot of water to a boil. In a glass bowl or double boiler pot, add chocolate chips and coconut oil and stir over pot of water until completely melted
⟁ Once melted, remove chocolate from heat and add our longevity mushrooms
⟁ Dip all your strawberries into the chocolate mixture and place on a baking sheet lined with parchment paper, then drizzle with our Magnesium L-Threonate
⟁ Place baking sheet in fridge or freezer. The freezer is fastest, and only takes about 25 minutes to harden the chocolate. The fridge will take longer but is ok if you have the time to wait!
⟁ Serve & enjoy!!
⟁ Store in the fridge to avoid melting :)
With love and gratitude,
The Cymbiotika Team