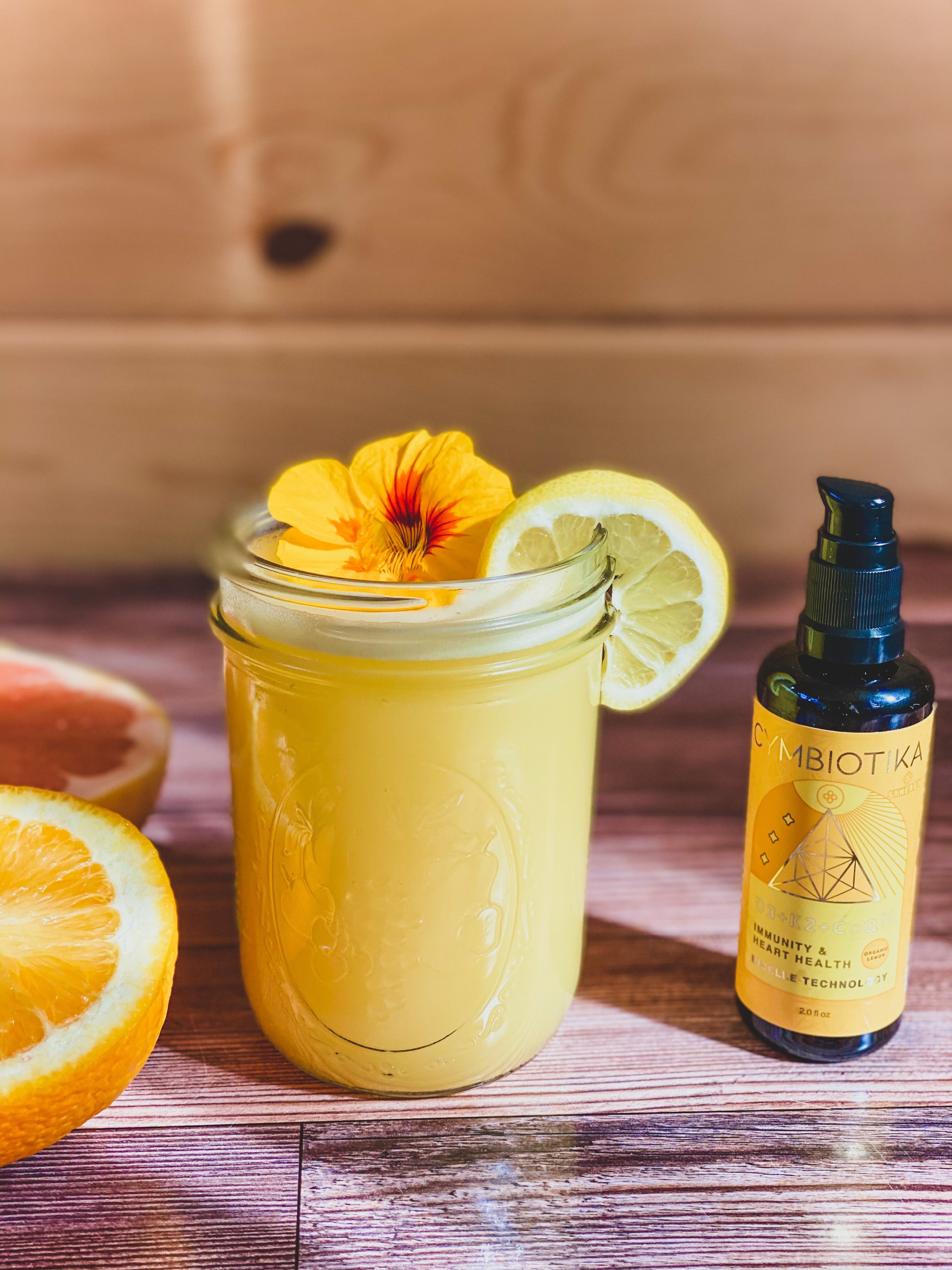 In honor of Mother's Day coming up, we wanted to create a simple recipe that supports immunity, energy levels, metabolism, and heart health for all you beautiful moms out there.
This energizing immune-juice is made with just 3 ingredients, including our Synergy D3 K2 CoQ10.
D3 is the most important epigenetic substance ever discovered and is in charge of activating over 3,000 genes associated with healing. This is a critical vitamin known for regulating the absorption of calcium and phosphorus, which are two minerals that play an important role in the strength and density of our teeth and skeletal system.
Along with this, there have been hundreds of studies highlighting the powerful synergy between Vitamin D3 and Vitamin K2 for their abilities to positively affect the cardiovascular system. This formula contains two of the most important forms of vitamin K2, MK-4 & MK-7. Our MenaQ7® MK7 is the only clinically validated, patented vitamin K2 available on the market today. Our Mk-4 is derived from fermented garbanzo beans, and is critical for mothers and developing children due to it being the only K2 that crosses the placenta barrier.
We have also incorporated to this formula the important antioxidant, CoQ10 in Ubiquinol form, trademarked by Kaneka™. Ubiquinol helps to control the harmful effects of free radicals and oxidative stress, which is directly related to the aging process.
When combining all of these powerhouse vitamins & compounds, you get a formula that promotes mental clarity, provides power for the mitochondria, supports bone growth/density, increases energy levels and more— which makes it a must have for moms throughout their days!
This recipe is loaded with vitamin c to support the immune system and will leave you with lasting energy all day long. Please share this post with moms who could use this formula & who would love this recipe!
Recipe
Time: 15 minutes
Yields: 1 serving
Ingredients:
⟁ 1 cup fresh squeezed grapefruit juice
⟁ 1 cup fresh squeezed orange juice
⟁ 14 pumps of Cymbiotika's D3 K2 CoQ10
Directions:
Cut all citrus and hand press into juice, or use a juicer for a more quick approach!

Stir in D3 K2 CoQ10 (or blend for extra creaminess), then sip & enjoy :)
With love and gratitude,
The Cymbiotika Team