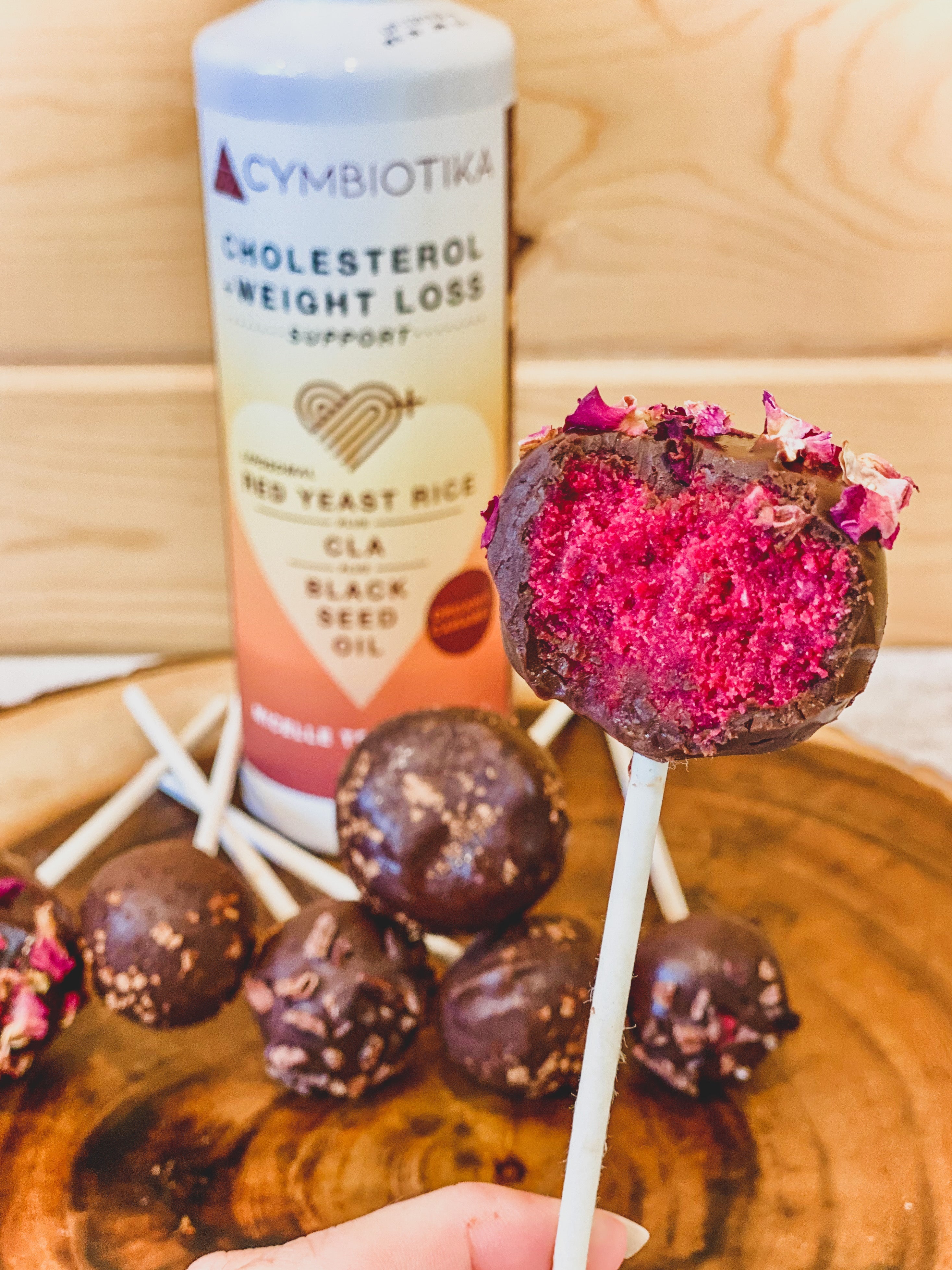 These red velvet cake pops are a dessert lover's dream come true… aaaand they're completely free of added sugars!
We are always looking for fun ways to incorporate our products into recipes, and these are definitely one of our new favorites. This recipe has a base of coconut flour and beets, with a special addition of our Red Yeast Rice formula to help those who may be struggling with high cholesterol, imbalanced blood sugar levels, or a slow metabolism.
Studies have shown that diets high in sugar can cause cholesterol levels to increase, thus leading to other potential issues down the road. Since this is the case, we decided to sweeten the cake pop filling with monk fruit granules and also chose some sugar free vegan chocolate chips to dip them in so no one has to miss out on this delicious recipe!
Be sure to save this recipe for later & share this post with someone who would love these :)
Recipe
Prep Time: 20 minutes
Set Time: 20 minutes
Yields: ~20 cake pops
Ingredients
⟁ 1 cup coconut or almond flour
⟁ 1 small beet (baked or boiled)
⟁ ⅓ cup coconut flakes
⟁ ⅓ cup golden monk fruit granules
⟁ 6 tbsp almond butter
⟁ 3 tbsp melted coconut oil (2 for filling, 1 for chocolate dip)
⟁ 1 tbsp coconut cream
⟁ 1 tsp vanilla extract
⟁ 3-4 tbsp of Cymbiotika's Red Yeast Rice
⟁ 1 ⅓ cup sugar free vegan chocolate chips
⟁ cake pop sticks
** If you aren't on a sugar free diet, we suggest adding in 3-4 medjool dates, lowering the almond butter to 3 tbsp, and omitting the monk fruit.
Directions
Prep a baking sheet or cutting board w/ parchment paper

Add all ingredients to a food processor (besides chocolate chips & 1 tbsp coconut oil for chocolate dip) and pulse until it has a cookie dough consistency

Roll mixture into balls, place on parchment, and move to fridge to set for 15 minutes

While waiting for the dough to chill, melt your chocolate chips and coconut oil in a double boiler pot or in a bowl over boiling water

Remove dough balls from fridge, place popsicle sticks in them, then individually coat them in chocolate and set back on the parchment paper or in a jar upright

Option to top them with cacao nibs, cinnamon, shredded coconut or rose petals while chocolate is still melted

Place in fridge for the chocolate to set for about 15-20 min and enjoy :)