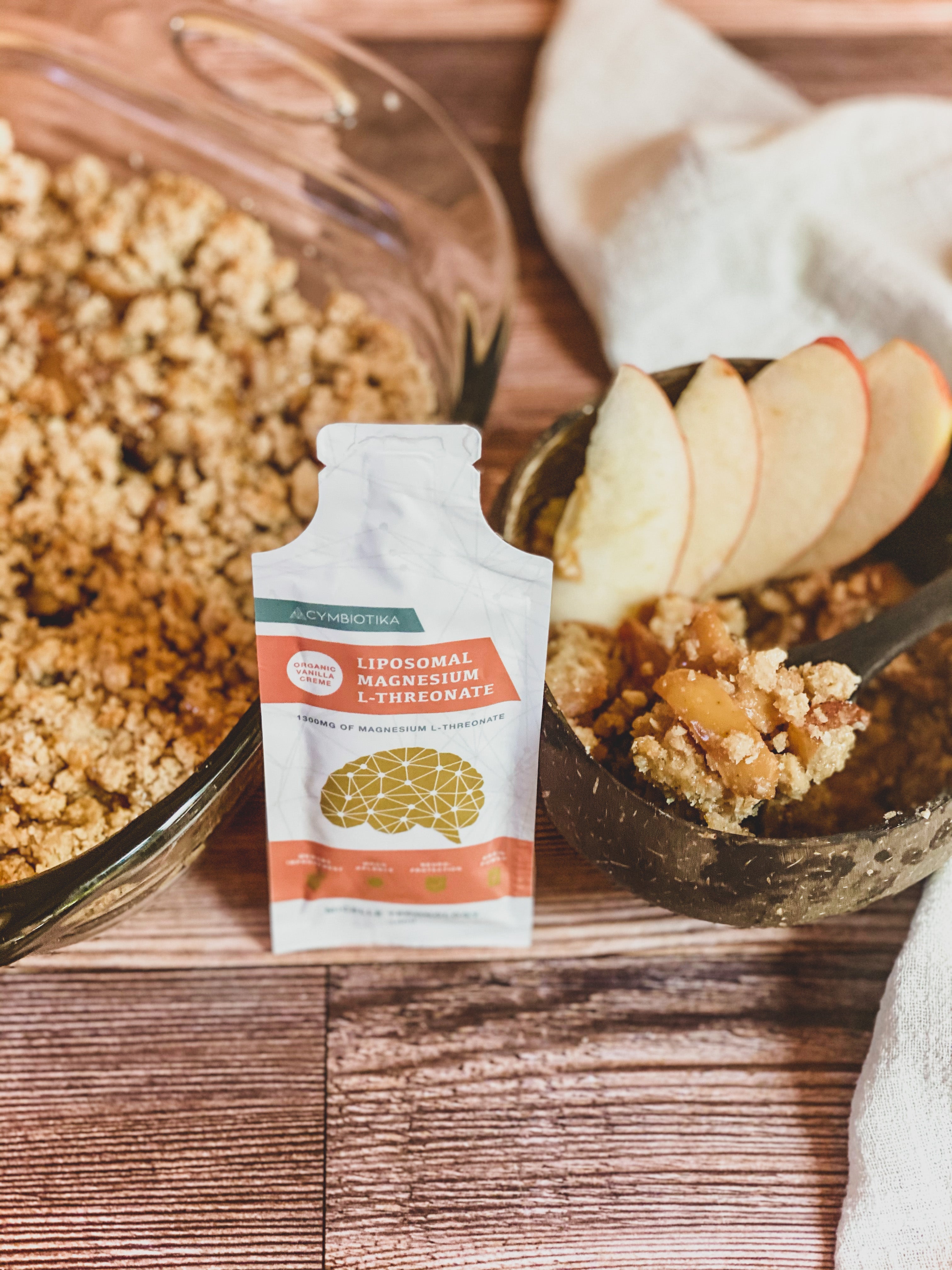 Wondering what to give dad this year for Father's Day? Well, in our opinion, nothing beats giving the gift of a *healthy* dessert or meal made with love to those we care about… :)
This apple crumble is out of this world delicious, and is topped with an added bonus of our Vanilla Creme Magnesium L-Threonate. This formula has been developed by a team of scientists at MIT, and has been shown to increase brain levels of magnesium much higher than any other form of magnesium.
In the world we are living in today, many people are extremely deficient in magnesium, which contributes to chronic conditions such as heart disease, loss of cognitive function, muscle cramps, mental health disorders, fatigue, and more. Magnesium is required for 80% of the body's metabolic functions, and plays an especially critical role in controlling the firing of synapses in the brain which helps to improve memory.
With all of this being said, instead of topping this crumble with sugar loaded ice cream that only contributes to more health problems, we got the idea to drizzle them with our Magnesium L-Threonate, which definitely won't disappoint in terms of flavor AND health benefits!
This week, shop Magnesium L-Threonate as part of our Father's Day Bundle and receive 15% off your order when you use the code "DAD15" at checkout.
Be sure to save this recipe for later & share it with your friends and family to spread the health and yumminess!
Recipe
Prep time: 20 min
Bake time: 25-30 min
Total time: 45-50 min
Yields: ~9 servings
Ingredients
Apple filling
⟁ 2-3 apples (we used pink lady)
⟁ 2 tbsp plant based or real butter
⟁ 1 tbsp ground cinnamon
⟁ ⅓ cup filtered water
⟁ pinch of salt
Crumble
⟁ 1 cup almond flour
⟁ 1 cup oats
⟁ ½ cup butter of choice (chilled)
⟁ ⅓ cup monk fruit granules
⟁ Cymbiotika's Magnesium L-Threonate - topping after baking (1 packet per slice)
Directions
Chop apples into small cubes (we leave skin on but can peel as well)

Heat butter in pan on medium heat and stir in apples, cinnamon, salt and water. Cover and let simmer/stew on low heat for 10-15 min until all liquid is absorbed

While apples are cooking, add all crust/crumble ingredients to a food processor (can be mixed by hand with fork as well) and pulse until mixture is combined but still crumbly

Press about half of the crumble mixture into a 9x9 baking dish, then add stewed apples on top and spread evenly. Top with the remaining crumble mixture

Bake in oven at 350

° for 25-30 minutes or until the top is slightly golden

Remove from oven and let cool completely- then cut/scoop into a bowl or on a plate & top with our Magnesium L-Threonate

Enjoy it all!!! (Best kept in fridge for up to a week)
In love and health,
The Cymbiotika Team