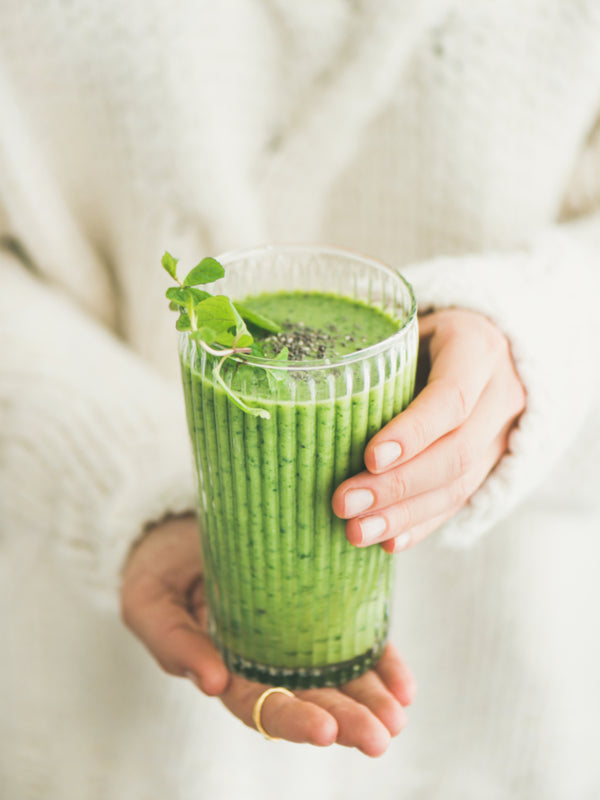 Every morning provides us with a fresh start—an opportunity to nourish our minds and bodies to empower us to take on the day. But if you're consistently relying on multiple cups of coffee and are asking yourself, "why do I get so tired in the afternoon," you're likely feeling fatigued by lunch time and completely drained by dinner.
Why not energize your body with natural ingredients and the powerful superfoods it craves?
Whether you prefer the nutty and bold taste of your morning cup of coffee, or the tropical flavor of fresh fruits, our 8 energizing smoothie recipes, paired with Cymbiotika's liquid energy supplements, are the perfect way to kick start your morning and banish your midday slump.
#1 Green Morning Smoothie
Say good morning to fresh, leafy greens with this delicious Green Morning Smoothie recipe. The main ingredient is iron-rich kale, which helps your red blood cells produce hemoglobin—a protein molecule that carries oxygen throughout your body to keep you feeling energized and alert.1
Plus, pineapple packs a punch of vitamin C, while avocado provides a dose of healthy fat. But the real secret behind this invigorating green smoothie is coconut oil, which contains medium-chain triglycerides (MCTs) that the body can instantly absorb and convert into energy.2
For a 2 serving blend you can enjoy in the morning and in the afternoon, combine the following ingredients in your blender:
2 cups of kale (de-stemmed)

½ cup of frozen pineapple chunks

1 avocado

2 tsp of coconut oil

2 cups of water
#2 Chic-Chic Hurray Smoothie
Wondering how to gain energy naturally without caffeine? Reduce your caffeine intake by replacing your morning cup of coffee with a morning cup (or smoothie bowl!) of chicory root. The dark, nutty flavor is similar to that of coffee, so you can trick your tastebuds (and yourself) into thinking you're enjoying your typical morning brew, without experiencing the jittery limbs, racing heart, and upset stomach that can often follow coffee.
In fact, this coffee substitute can actually improve your gut health. That's because fresh chicory root contains about 68% inulin—a type of fiber that's been shown to promote healthy bacteria growth in your gut.3 In turn, this bacteria plays an essential role in:
Reducing inflammation

Aiding digestion

Improving mineral absorption
To take advantage of the benefits of this energizing, coffee-esque beverage, add 2 teaspoons of natural chicory root coffee substitute and 3 pitted prunes to 1 cup of boiling water for about 10 minutes. This will allow the water to absorb the chicory root and soften the prunes. Then, add the chicory root water and prunes to your blender, along with:
1 cup of unsweetened non dairy milk like almond milk or oat milk

2 tsp of unsweetened almond butter or natural peanut butter - sprouted if possible

1 cup of ice
#3 Tropical Chia Seed Smoothie
Start your day feeling as though you're absorbing the natural energy of the sun with this tropical chia seed smoothie. Chia seeds may be small in size, but they can have an enormous impact on your overall health. In fact, the word chia comes from the ancient Mayan word for strength.4 Take one look at all the benefits they have to offer, and you'll understand why.
Chia seeds are loaded with:
Antioxidants that promote anti-aging

Fiber to keep you feeling full longer

Protein to help build and maintain muscle

Omega-3 fatty acids which can reduce your risk of heart disease4

Vitamins that help your body convert food into energy, such as B2 and magnesium
Plus, the spinach hidden in this healthy smoothie is an excellent source of vitamin C, folate, and iron—vitamins and minerals that promote energy production in the body. Combine these superfoods with juicy mango and naturally-sweet banana, and you have yourself an island getaway in a cup.
To make 2 servings of this tropical treat, combine the following ingredients in your blender:
1 cup of frozen mango

1 banana

2 cups of spinach

1 tsp chia seeds

1 tsp hemp hearts

1 tsp cacao powder

1 cup of unsweetened almond milk or coconut milk
#4 Busy Bee Breakfast Smoothie
Another exceptional superfood that can revitalize your smoothies and reinvigorate your energy levels is bee pollen. A mixture of bee secretions, flower pollen, nectar, honey, and enzymes, bee pollen can naturally increase energy levels and improve metabolism.5
Plus, antioxidant-rich acai berries create a sweet smoothie you'll want to sip on all day long.
For this recipe, you'll need:
1 pack of frozen acai berries (3.5 oz)

½ cup of blueberries

1 banana

1 cup of orange juice

½ teaspoon of bee pollen
#5 Green Tea Smoothie
For centuries, people have turned to green tea for it's smooth taste and unique health benefits. Although green tea contains a minimal amount of caffeine, it doesn't cause the same jittery high and sudden crash of other caffeinated beverages, such as coffee. In fact, green tea actually promotes a stronger energy boost due to its levels of L-theanine—an amino acid that slows the body's absorption of caffeine to provide more sustainable energy.6
Rather than drink green tea alone, try this fiber-packed green tea smoothie recipe to fuel your body from sunrise to sunset:
½ cup of green tea, chilled

½ cup of plain, fermented yogurt

¼ cup of orange juice

½ banana

½ cup of kale (de-stemmed)

¼ cup of cantaloupe

¼ cup of honeydew

¼ cup of frozen pineapple chunks

¼ cup of frozen blueberries

½ teaspoon of chia seeds
#6 Morning Maca Spice Smoothie
To spice up your morning and spark your energy, add a little maca root to your daily breakfast smoothies. Native to Peru, maca root is believed to boost energy levels and increase strength to help you take on whatever your day brings. Plus, several studies have also found that maca can reduce feelings of anxiety and depression to promote a more balanced mood.7
Combine the following ingredients for a smoothie that will leave you (and your gut) feeling energized, elated, and satisfied:
2 frozen bananas

1 cup of water or milk

2 tablespoons of raw sunflower seeds (or walnuts)

2 medjool dates, pitted

1 tablespoon of maca powder

½ teaspoon of cinnamon
#7 Chocolate Peanut Butter Smoothie
You'll feel like you're sipping on dessert with this seemingly sinful chocolate peanut butter smoothie. Despite its chocolate-y flavor, this recipe delivers essential vitamins, minerals, and nutrients to your body. Potassium-packed bananas fill this smoothie with fiber, which slows the release of their natural sugar into your bloodstream to allow for a more sustainable boost of energy than sugary cereals or artificially-sweetened breakfast bars.
This delectable 2-serving recipe calls for the following:
2 frozen bananas (cut into chunks)

¾ cup of unsweetened almond milk or coconut milk

3 tbsp of natural peanut butter

¼ cup of unsweetened cocoa powder

1 tsp maple syrup (optional, for added sweetness)
#8 PB&J Power Smoothie
Pump up your energy levels using the power of berries. This yummy smoothie is ripe with juicy blackberries, blueberries, raspberries, and strawberries, which are all naturally high in polyphenols—antioxidants that can help the body produce energy and fight against harmful cell damage.8
Plus, omega-3 rich flaxseeds provide you with an additional energy boost, while a dollop of your favorite nut butter helps round out this peanut butter and jelly-flavored treat.9
For a 2 serving pour, blend the following ingredients:
1 cup of frozen blackberries

1 cup of frozen raspberries or strawberries

½ cup of frozen blueberries

1 frozen banana

3 cups of spinach

2 tablespoons of flaxseed

2 tablespoons of natural peanut butter (or almond butter)

1 cup of plain greek yogurt

1 cup of unsweetened almond milk
Additional Tips for Blending Up the Perfect Energizing Smoothie
With all the delicious, naturally-energizing foods available to jump start your day, revitalize your afternoons, and nourish your body and mind, that's no limit to the flavorful smoothie combinations you can enjoy. Try out each of our favorite recipes, then feel free to personalize them by swapping out ingredients or adding additional liquid energy supplements. To learn more about the best energy supplements for chronic fatigue, we've written a separate post all about this topic!
To help create your perfect blend, take a look at a few of the following smoothie-making tips:
Replace ice with frozen fruit if your blender struggles to break up chunky cubes.

If your smoothie is thicker than you'd like, add more water or milk. Alternatively, if your smoothie is a bit too watery, add more solid ingredients, such as frozen fruit.

To sweeten a smoothie naturally, add ½ tablespoon of honey or maple syrup.




For an extra protein punch, add a scoop of your favorite protein powder.




While almond milk's neutral taste can be used in any smoothie recipe, coconut milk can bring out a tropical smoothie's island flavor.

Further boost your energy levels by adding naturally-energizing supplements, such as Cymbiotika's

Synergy Vitamin B12 supplement

,

Longevity Mushrooms supplement

, or

Golden Mind supplement.
Synergize Your Smoothies with Cymbiotika
When it comes to restoring our energy levels and harnessing the potential of our bodies and minds, there's no replacement for naturally-powerful vitamins, minerals, and nutrients. That's why at Cymbiotika, we offer energy-enhancing supplements that work synergistically with your diet to guarantee maximum nutrient absorption in order to increase energy at a cellular level, improve sluggish digestive systems, and combat oxidative stress.
When you understand how to properly nourish your body, you can feel empowered in all other aspects of your life. Taste and feel the difference of natural energy enhancement today, with Cymbiotika.
Sources: