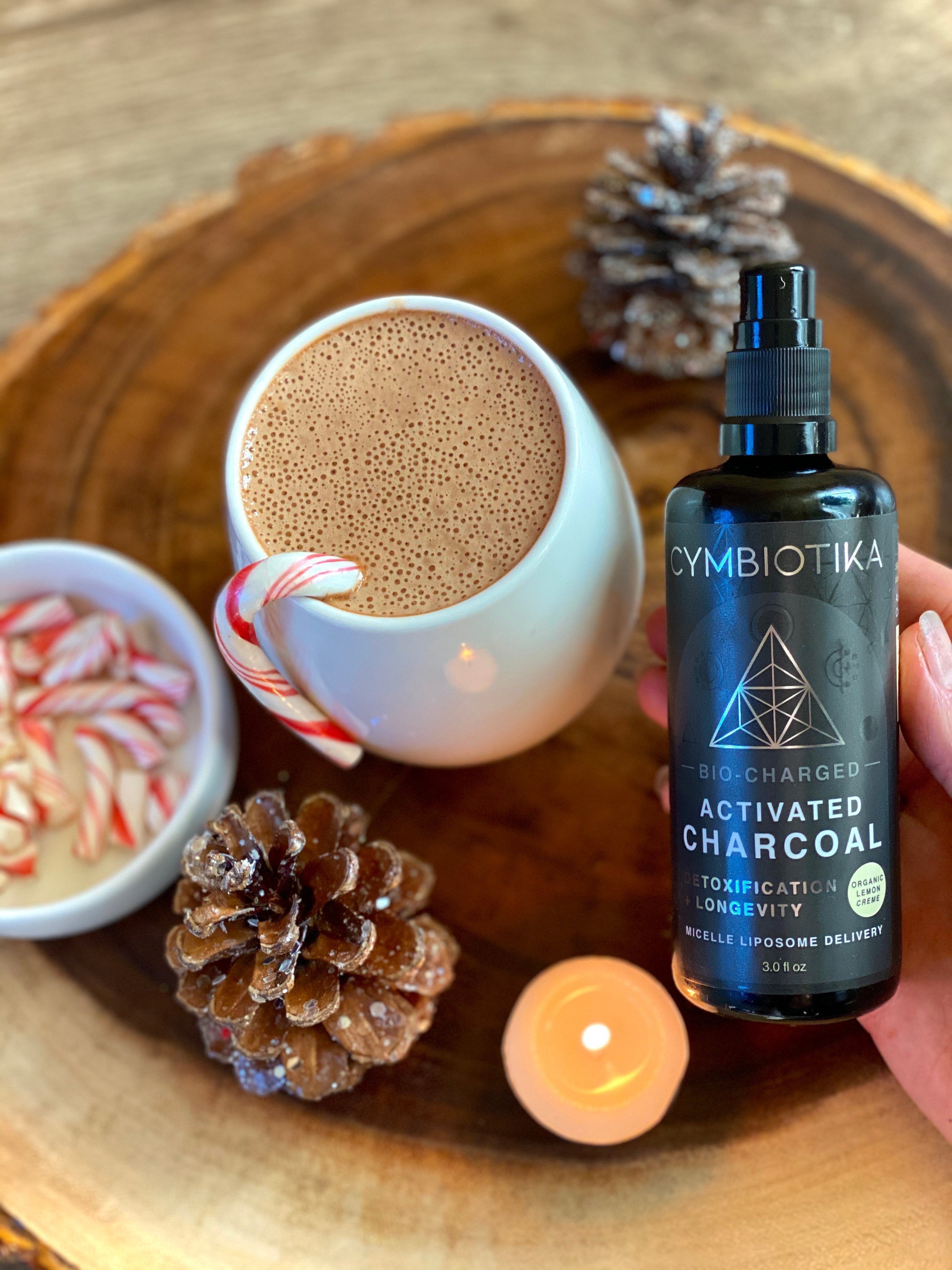 Nothing takes us back to our childhood quite like the memory of enjoying hot cocoa on a cold winter day… and the holiday season wouldn't be the same without this tasty treat! This is one of our favorite sweets to enjoy during the colder months with our friends, families, and little ones; however, most premade hot cocoa packs are loaded with artificial flavors, sweeteners, and other chemicals-- so we love to make a hot cacao from scratch with simple ingredients that are also really healthy for us!
We have created the best ever vegan peppermint hot cocoa made from ethically sourced cacao beans which is full of antioxidants, sugar free, creamy, rich, and has a special addition of our liposomal activated charcoal inside to aid in digestion and add a sweet hint of macadamia to it. Cacao beans tend to be a bit more bitter than processed cocoa, so we have added the option for you to sweeten it to taste for your own personal preferences.
Vegan Peppermint Cacao W/ Cymbiotika Activated Charcoal
Time: 5-10 minutes
Yields: 1 cup (or a little more depending on how big your mug is!)
Ingredients:
1 whole can coconut milk or cream

1 ½ tbsp cacao powder, or 3 tbsp cacao from solidified cacao bar

⅓ teaspoon organic peppermint extract- can add more if you desire extra minty flavor

¼ teaspoon monk fruit powder or sweetener of choice- can add more/less for taste

¼ teaspoon salt

20 pumps of Cymbiotika's Activated Charcoal
Optional Toppings:
Cymbiotika's Magnesium L-Threonate

Cymbiotika's Longevity Mushrooms

Coconut Whipped Cream

Crushed vegan candy canes (if you're not sugar free)
Directions:
Heat up coconut milk/cream in a pot and remove from stove right before it boils

Pour liquid into blender and add all other ingredients (including the charcoal)

Blend until creamy, pour, top & enjoy :) Sometimes we even like to sprinkle an extra little bit of salt on top!